The Residences at Six Fisher Island, a highly anticipated and luxurious 11-story structure, is set to be completed by 2025, offering an exquisite living experience on this exclusive island paradise. With its prime location at 6 Fisher Island Drive in Miami Beach, the development showcases the utmost sophistication and elegance.
Designed by the renowned architect Kobi Karp, this high-rise project will consist of 50 units, each thoughtfully designed with three to five bedrooms. These spacious residences range in size from 3,870 to 8,400 square feet, providing ample space for comfortable and luxurious living. The tower will also feature a selection of exclusive penthouses, offering even more opulence for discerning buyers.
The Residences at Six Fisher Island boast breathtaking views of the Atlantic Ocean, allowing residents to immerse themselves in the serene coastal beauty. Elevator access ensures convenience and ease of movement throughout the building. Outdoor kitchens and private pools are notable features, providing residents with the perfect setting for outdoor entertaining and relaxation. The interiors are meticulously designed by Tara Bernerd & Partners, renowned for their expertise in creating stunning kitchens, wardrobes, and bathrooms.
Residents of this extraordinary development will have access to a range of luxurious amenities. A pristine swimming pool invites residents to take a refreshing dip while enjoying the stunning surroundings. A pickleball court offers a unique and enjoyable sporting experience, while the spa provides a serene oasis for relaxation and rejuvenation. A state-of-the-art fitness facility is available for those seeking an active lifestyle, and a residents' lounge offers a stylish and comfortable space to unwind and socialize.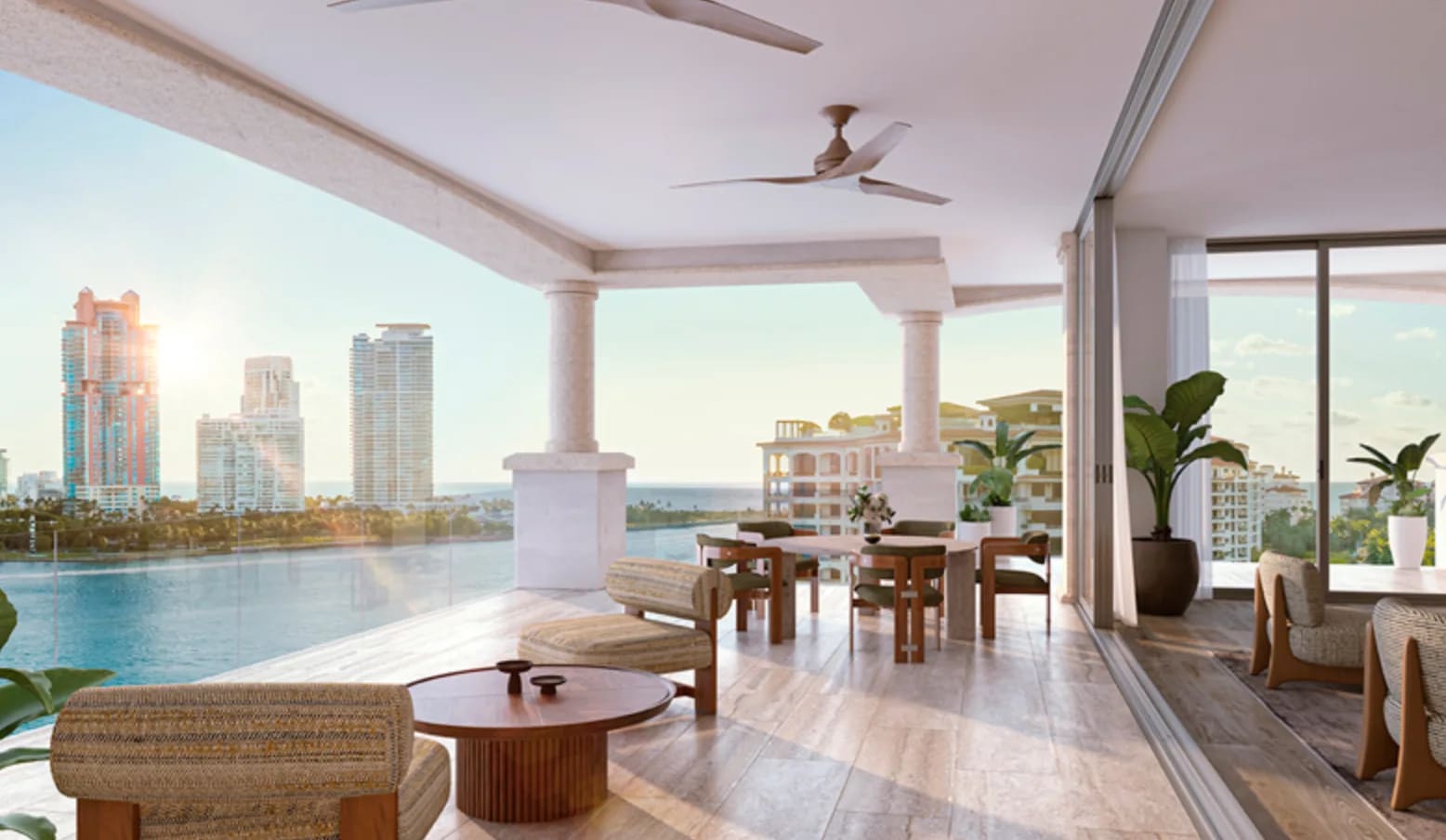 Fisher Island itself is renowned for its exclusivity and has attracted notable residents such as Oprah Winfrey, Julia Roberts, and Mel Brooks in the past. In fact, Bloomberg named Fisher Island as America's wealthiest ZIP code in April 2018, with an average income of $2.5 million in 2015. This prestigious enclave provides a secure and private setting for those seeking the utmost in luxury living.
With Kobi Karp at the helm of the architectural design, The Residences at Six Fisher Island seamlessly blend indoor and outdoor spaces, creating a harmonious and inviting atmosphere. The starting price for these exceptional units is $15 million, reflecting the exceptional quality and unparalleled lifestyle offered within this exclusive development.
Photo Source: Related Group